.
When I first heard about Authors After Dark (AAD), I was really excited to attend. I mean, it was $130 for a registration fee that included all of my meals, five thousand books as giveaways (the most at any convention)1 , swag, geared toward readers and giving us the opportunity to have quality time with many authors like Larissa Ione, Lara Adrian, James Buchanan, Jess Haines, Monica Burns, Sylvia Day2, Dakota Cassidy3, Carolyn Crane and many more. We also got to spend time with the publishers and other reviewers and readers.
As someone who doesn't like to spend a ton of money, this was ideal. Especially because I could share a room with other attendees and reduce my hotel room fee AND not spend an enormous amount of money on meals.
As a matter of course, I do review sex toys as well as romance novels, so I was asked by Stella Price to host the sex toy party since the person who was supposed to host this party decided to not do it. I agreed and even contacted two companies I review for to get some awesome giveaways, swag and discounts. I had to print the discount coupons and pay for them out of pocket. What truly upset me is Stella flat-out refused to pay for printing.4
I arrived a day early (Wednesday) and got everything I needed to do done, including taking the promo down to the hospitality room so they could be included in the welcome swag bags. I also had 2ft x 3ft posters printed but they were NEVER used.5
The sex toy party went well. I was really surprised that so many people attended. We were overflowing as people had to actually stand since all the chairs were taken. I believe the toy that people enjoyed seeing and touching the most was my Njoy Eleven. It is a masterful thing of beauty. I loved that we were able to have fun AND that I did not have to "brown bag" the toys. I ended up closing the doors to the room, so no hotel staff could wander by. There was even a guy or two in the room with us! We also had fun giving away the awesome giveaways that Babeland and Good Vibes gave for this event.
Don't forget, the coupon at Babeland is still valid through August 31! It's a 15% discount on your order with code AAD2011!
.
After the toy party, I went to the blogger slumber party. I had tons of fun there and even won Rita Sawyer's book, because I got the Pecker Inspector badge in the Sawyer swag bag I picked up. WIN!
I went to dinner that evening with a bunch of AWESOME people. We went to the Perch Pub, where we talked about a ton of things, including butt sex, blow jobs, dildos, various sexual practices and had delicious sangria. After which, since we were all full of good food and sangria, we went back to the hotel and continued to giggle like a bunch of prepubescent girls.6
I got to see Meljean Brook7, KT Grant (aka Katiebabs), Felicia (Geeky Blogger), and several others that I'd met last year at RomCon and this year at RWA. My awesome roommates were Ferishia (Felicia # 2) and her friend, Dina, who is pretty fucking hilarious. They're a riot in a can, y'all. They're also awesome.
I got to meet many people, including authors I'd corresponded with (tweeting, FB, email) and people from the publishing houses, like Heather from Decadent Pub, who is hilarious.
I also got to see Allison Pang again, and met her husband, who is a good sport. Oh, his face, when I told him at lunch that the guy who invented the Fleshlight is actually a Virginia police officer. Hah! He's also cute, if you're wondering.8
I didn't stick around for any of the dinners, really, except for the Steampunk dinner and that joke of a Steampunk Ball. The dinner was fun, the food mediocre, but I expect that with convention food. What I don't expect is the "food" provided at several other events at the convention. The "specials" featured fruit slices and pastries (whatever). I did enjoy the chocolate special, as I love chocolate and I may have overloaded this weekend on chocolate. We decided to go to a chocolate bar Friday evening–it had chocolate pizza and chocolate chai (SO GOOD).9
.
Here's what I disliked about AAD. And by dislike, I mean INTENSELY HATED WITH AN INTENSE PASSION:
1. NOT all meals were included. A while ago, Stella made the promise that all meals were included in the $130 registration fee. What does that mean to me? It means ALL meals (breakfast, lunch and dinner) on the convention dates (Thursday through Sunday noon). This was a HUGE selling point for me and I was near tears when I learned that I would have to pay for all my own food. At the very least, continental breakfast should have been included.
2. At the welcome event, Stella said that there were to be no egos here and that they would not be tolerated. Um, hello, Stella was The Ego at this event.
3. Stella BLASTING the hotel and calling them "assbags" and "fuck Hilton" in her rant on the AAD Yahoo loop. WHY would the event coordinator do this? In what world is this even acceptable? As the face and talking head of the event, you NEVER EVER do that. Keep your drama backstage and try to keep it from spilling to the forefront.
4. The poor treatment of authors, especially one, in particular, whose email to me of their treatment is quoted below:
A big draw to AAD was Stella's assertion that she would not treat small press authors any different than New York authors. She even went so far as to write a blog post blasting RT for their poor treatment of small press authors. Well, here's what happened to me at AADPhilly. I'm a fairly new author published with a couple of small presses. Stella told me all along that I would have to carry my own books in because the bookseller wouldn't order from small presses. That was no big deal. She also told me that the bookseller would sell the books for me, so no worries there.

On Saturday, at 1:45 p.m., I carried my books into the book signing room as I was instructed to do. Low and behold, there was no spot reserved for me. I stood there for 10 minutes while one of the staff tried to fit me in somewhere. He did find me a spot and I got all set up. Then I wondered how this whole book selling thing was going to work. I asked the author sitting next to me and she said I would probably have to sell them myself. I told her that wasn't what I was told. So, I got up from my cramped little spot and found two staff members in the corner. I asked them how the book selling was going to take place. I related to them that I was told the bookseller would sell my books even though I carried them in. They told me, since I'm small press and brought my own books, all sales were between me and the reader. The bookseller had nothing to do with it. WTF??? So, here I am, the book signing is starting NOW and I have no money to make change and no idea how to tell people who walk up to my table that they have to pay ME for my books.

I was embarrassed and pissed off. This was my first book signing and AAD ruined it. Being who I am, I made the best of it and enjoyed the readers who stopped to talk to me and bought my book even though it was awkward and strange to ask them for money.

Meanwhile, the NY authors are set up in a spacious square in the center of the room with all their books being sold by the bookseller out front. Hmm…this doesn't sound like small press authors got the same treatment that the NY authors got. Does it? We're all equal, my ass.

I went to RT in April, so I can compare these two events. RT was much more organized and honest about what their conference fee included. And a few small press authors I talked to at RT said they were treated very well by the organizers of that con. And there was no separation between the NY authors and the small press authors at the book signing, they were arranged in alphabetical order. They did it right.
5. The booksigning setup. Was I the only one who noticed that the NYT authors got a nice, cozy space in the middle of the room, while the rest of the small(er) press (and self-pubbed) authors sat around the room? I distinctly remember Stella BLASTING RT for treating small press authors poorly and promising that no author was above another at AAD.
6. Opening the Steampunk Ball to the public and it felt so uncoordinated and last minute.
7. The disaster of a freakshow during the Steampunk Ball. WHAT THE FUCK WAS THAT?! Swallowing and vomiting a goldfish and eating earthworms (even though someone, whose opinion I trust, told me that they were fake). That was so beyond offensive. Especially as the money for the gift basket raffle went to an animal rescue charity. Let's not forget the broken glass, sperm balloon animal freak show dude PUT IN ONE NOSTRIL AND THROUGH THE OTHER and the swinging of a 15lb iron from wires attached to fish hooks through other freak show dude's lower eyelids. It was a mass exodus at that point, like when the Jews escaped from Pharaoh.10
8. Stella being rude to the attendees, refusing to answer questions and walking away from them like she's someone too important to deal with convention questions. Um, no, you're not.
9. The schedule changes. Many people did not have smartphones and so therefore were unable to use the Guidebook app for the most up-to-date schedule and room assignments. I had this problem, even with the app. (I have an iPhone.)
10. The charity raffle. YES I had issues with it and tweeted about it. I tweeted that I couldn't find the dude who was selling the tickets for the raffle, that I'd won a basket I never entered my tickets for AND that I thought it was rigged. As you can see, I never said it was rigged, just that I thought it was. Blowing farts in the unprofessional person's face right now.
11. Stella picking a fight with me in front of people. Really, take the drama to the side and hash it out. You just look so unprofessional and show yourself for an "evil goblin from hell".
When I went down to the hospitality room to see if I'd won any gift baskets, I found that I'd won a basket which I absolutely did not put my tickets in for. I put my tickets all in for three specific baskets. I hen tweeted that and that the raffle was rigged. The second tweet was just me blowing off steam, but OMG DRAMAZ. I was walking around finding people and trying to say goodbye to them before they and I left for our respective homes. I then ran into Stella (she was with a group of people) and she went off on me. Then I went off on her. Sorry, dude, you don't get to pull shit like that in front of people. Should've been an adult and fucking done it in private BUT NOOOOOOOOOO. She had to do it in front of people. Never start shit you can't finish, because I'll motherfucking finish it for you. She blasted me so I called her unprofessional and mean and I told her to fuck herself. She was responding to my "raffle was rigged" tweet and was all "you think I don't watch twitter?!". So I responded that I hoped she WAS watching twitter because then she'd know just how unhappy people were with certain elements of the event. Harsh, yes. Truthful, yes. I also said I would give away the basket on my blog. She tried to be all "you're done here" but I'd already told her I'd never come back to this event. In all truth, I'll never attend an event she's planned because I know it'll be shit and go to hell in a hand basket.
The absolute unprofessionalism of one Stella Price11 is beyond my comprehension. I don't even understand why she would think it would be okay to snap at people, yelling"I don't have time for this [or that]" and walking away from attendees with valid questions.
I also met that dude who was dressed in full-out Steampunk regalia. He smelled like three-day-old sweaty, unwashed jock strap and was an ass. He smelled like his personality. I dubbed him Captain Douchebag. I win.
.
WINNING TWEET THAT DESCRIBES HOW I FEEL ABOUT BLOGGING ABOUT AAD 2011:
.
FAVORITE TWEETS:
.
FAVORITE PHOTO: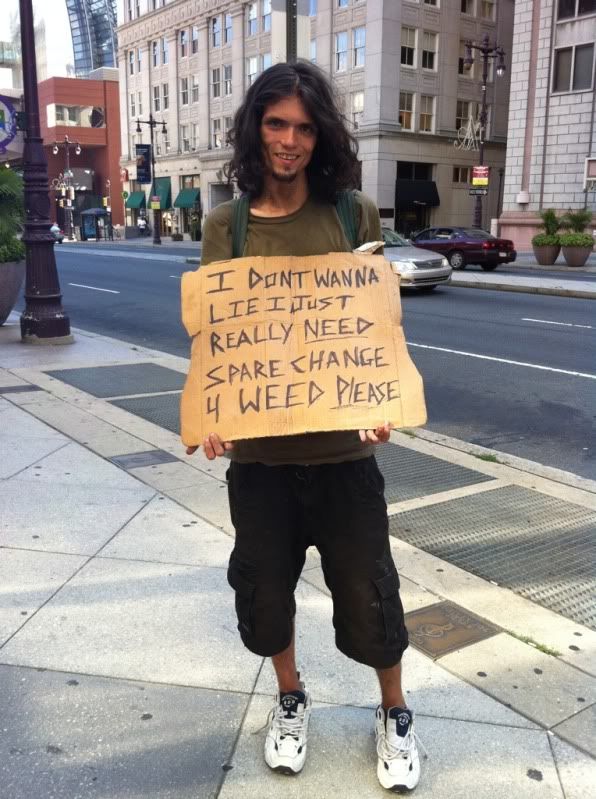 I met this dude and I gave him a dollar for his honesty. And if I could take his photo. Hah!
.
FAVORITE STORY: Whilst outside the hotel one night with Charlote, Melissa Ecker and Ava Riley, we saw a really hot transit cop. He was hot. I could see the curly chest hairs above his collar and bulletproof vest.12 I kept telling him to come over to us on the sidewalk whilst he was in his car. He didn't, but asked me to go over to him, which I totally did. He asked me what were we talking about cuz he heard someone mention anal sex.13 I told him I review sex toys and that they're romance authors. He asked me what my favorite toy is and I told him it was the Njoy Eleven, which is 11 inches of solid stainless steel goodness. He then spread his legs and said he didn't have 11 inches.14 He then asked if my roommates would mind if I brought a cop up to our room for a midnight fuck. I told him yes, they would mind.15 Alas, I did not get his number. And I wished, for a night, I hadn't had roommates. *aroused pouty face*
.
VIDEO OF FREAKSHOW DUDE WITH FISH HOOKS IN HIS EYELIDS:
Watch this video in full-screen mode. He also pointed at me. Gross.
.
CONCLUSION: I'm never, ever, ever attending this event, nor any event that Stella Price is a part of. She is a liar and an unprofessional person who does not deserve my money or further consideration. Thankfully, I had fun with people who were not Stella, and alcohol. GOOD TIMES ABOUND WHEN SHE'S NOT AROUND.
Wait, I already did!
.
GIVEAWAY: As I stated earlier, I will be giving away the gift basket I mistakenly won. It has books by several authors, including Jessa Slade, whose books rock, and swag. Just leave a comment and your email address (use email AT domain DOT com format, please). Limited to USA residents only (sorry, but it's a largish basket so would cost more to ship).
Giveaway ends September 2, 2011 at 11:59PM!
Comments will remain open due to the rest of this blog post.
Winners will be announced September 5, 2011!