Thanks to Good Vibes for this toy!
When I first saw the Sparkle Vibe on GoodVibes.com, I was immediately hooked by its aesthetic beauty. I mean, it's purple and it spahhhhkles. And the description read like something I'd enjoy.
When I received the toy, it was in a clear, thick plastic bag with the Good Vibes logo on the cardboard hanger thing that was stapled to the top of the bag. It was also a sparkly deep pink, not purple. Well, I like pink so it wasn't really an issue for me.
Once I opened the package, I noticed that the toy itself was kinda sticky, like a hard candy sucker would be. However, once I cleaned it, I found that that initial stickiness was still present. This was a bit frustrating, but I think with further cleanings, that stickiness might go away. I never smelled anything that would have made me put this toy immediately to the side.
The Sparkle Vibe is made of TPR and takes two AAA batteries. It is also phthalates-free. I liked the curved, slightly flowing bulbous shape and the double rings near the top of the shaft (the triple rings near the bottom of the shaft didn't really make an impression for me), and I even enjoyed its slenderness. The length was decent, at 5.25 inches long and is 1.25 inches at its widest point.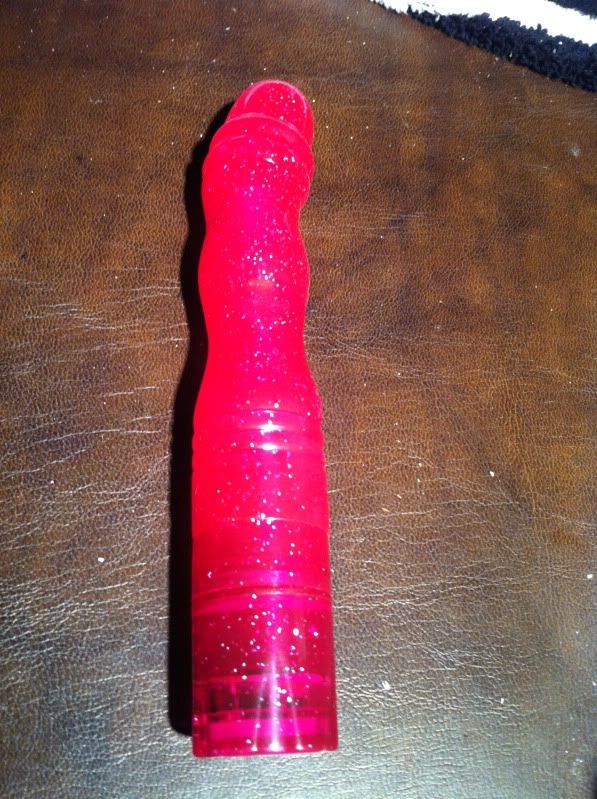 There are three vibration settings (low, medium and high) and are controlled with a one-touch control button at the bottom of the toy. I felt that they weren't strong enough, as I enjoy a more deep vibe when inserted in my vagina. There are three levels of vibes, and I found that the third (highest) was good for clitoral stimulation, that's it. I was basically using it for clitoral stimulation while jacking my fingers inside.
I also didn't enjoy the fact that this toy is essentially a lint trap. I had to clean it twice, once about a half hour before use and a second time right as I was getting ready to use it, because I noticed that it had lint on it. That was frustrating and put a damper on my arousal.
Since this toy is waterproof, I was able to use it a bit more successfully in the shower, since there was no lint to attract. However, I did notice that after I cleaned it after shower use and let it air dry, it dried with a minimum of lint.
I was able to clean this vibe with a sex toy cleaner (spray) and with soap and water (because it is waterproof). However, after the shower usage, I decided that air drying was easiest and the way to mostly avoid lint. As I stated earlier, it was was sticky when I took it out of its bag. That being said, I have cleaned it several times and it is still sticky which I think is due to the material, TPR.1
Please note: I used a water-based lube with this toy.
I had decently high hopes for this toy but it seems my expectations fell far short.

Not that I particularly dislike TPR, but I've never really had the stickiness issue. [↩]