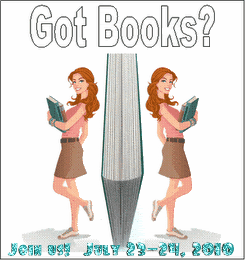 So, I learned of Got Books Blog & Event (http://gotbooksevent.blogspot.com/) a while ago, and I wanted to join. It sounded like a great way to interact with readers and hopefully cyber-meet other bloggers and readers. I'm starting off with saying, YAY!!!!! I'm so happy to be participating in this event!
I recently attended my VERY FIRST Readers & Writers convention, called RomCon, in Denver, CO (http://www.romconinc.com) and I absolutely enjoyed myself! To celebrate, I'm giving away some RomCon swag AND 2 books!!
What swag, you ask, well THIS SWAG:
.
And THESE BOOKS:
.
Those prizes having been shown to you, please adhere to the contest rules:
Giveaway ends Saturday, July 24, 2010. Giveaway open to US & Canada residents only. Must be 18 years old or older to enter. Winner will be chosen randomly. Winner will be selected, emailed and announced on my blog some time after the giveaway ends. Winner will be emailed and will have 72 hours to claim their prize before a new winner is selected. Prize to be mailed directly from Insane Hussein. Insane Hussein is not responsible for lost or damaged prizes once prizes have been mailed. Good luck to all who enter!
All you have to do is fill out THIS FORM and good luck!
🙂 Insane Hussein